LATEST NEWS ON AVEBURY May 31st 2000
Silbury Hill suffers a collapse
Recent heavy rain has caused a collapse of an old excavation hole on the top of the hill.
Cornish tin miners in 1776, working for the Duke of Northumberland, drilled a hole from the top to the base
and it seems the filling has given way to open a hole estimated at 30 to 40 feet.
A team of achaeologists will assess the damage on May 31st to see how this can be refilled.
Please do not climb Silbury to have a look.
This latest damage shows the fragile state of Silbury and other holes may appear.
New photos will appear here shortly, please come back for an update.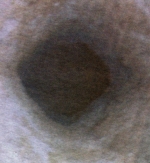 Looking inside the hill.
---
Latest news (22/6/00)
From the Gazette & Herald (22/6/00)
An emergency rescue operation was mounted at Silbury Hill during the solstice celebrations amid fears a reveller had fallen down the 50ft shaft which has recently opened on the landmark.
A 14-man rescue team from Wiltshire Fire Brigade's Rope Rescue Unit was alerted early on Wednesday morning, after the man had been missing for one-and-a-half hours, but he was found enjoying a nap under scaffolding.
Leading fireman Peter Crow, from Chippenham, said "They had a group hug and then everyone went away."
---

Update 9th July.
Bad weather bought thunder & lightenting!
I witnessed 11 strikes in the immediate area and managed to photograph 7 of them.

Click for Hi Res image.
Please DO NOT CLIMB THE HILL!

---
---